Crime Panel – with Mark Hill, Anna Mazzola and Abir Mukherjee (chaired by Barry Forshaw)
This is first of a series of cracking crime events that we're putting on for your entertainment to highlight some of the very best authors around right now.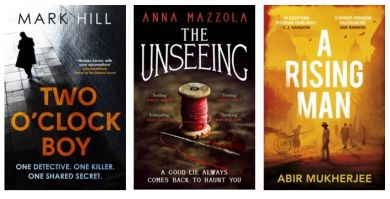 – Mark Hill – author of The Two O'Clock Boy
– Anna Mazzola – author of The Unseeing
– Abir Mukherjee – author of Rising Man
Our chair for the evening is the mighty Barry Forshaw. Barry is one of the UK's leading experts on crime fiction and film, with books such as Brit Noir, Nordic Noir,Euro Noir, British Crime Film and Death in a Cold Climate: A Guide to Scandinavian Crime Fiction. Other work includes the Keating Award-winning British Crime Writing: An Encyclopedia, The Rough Guide to Crime Fiction, and the first biography of Stieg Larsson.
This is a free event, but please contact us if you'd like to attend, so we can reserve a place for you.
Enquiries@biggreenbookshop.com or call 020 8881 6767
Join the CWA
Become part of a thriving community of successful crime writers with invaluable support, expertise and marketing opportunities for all our members.
---