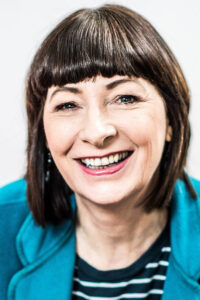 Dagger in the Library 2022
Shortlisted
---
Cath Staincliffe
Cath Staincliffe is a best-selling, award-winning novelist, radio playwright and the creator of ITV's hit series, Blue Murder, starring Caroline Quentin as DCI Janine Lewis. Letters To My Daughter's Killer was selected for Specsavers Crime Thriller Book Club in 2014 and featured on ITV3's Crime Thriller Club. Cath also writes the Scott & Bailey novels based on the popular UK TV series. Cath created the probate detective series Legacy for BBC Radio 4 and guest writes on the Stone police drama. She was a winner of the WGGB Best Radio Drama Award in 2019, and won the CWA Short Story Dagger in 2012.
Her recent standalone novels examine the impact of crime on ordinary families. Her latest book, Running out of Road, is a race against time, played out in the brooding wilderness, the limestone gorges and gritstone edges of the Derbyshire Peaks when eleven-year-old Scarlett is abducted on her way home from school.
Cath is one of the founding members of Murder Squad – a group of Northern crime writers who give readings, talks and signings around the country.
Join the CWA
Become part of a thriving community of successful crime writers with invaluable support, expertise and marketing opportunities for all our members.
---