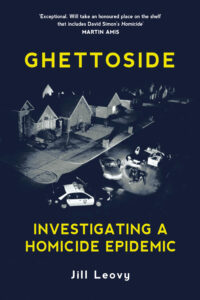 ALCS Gold Dagger for Non-fiction 2015
Shortlisted
---
Jill Leovy
Ghettoside: Investigating a Homicide Epidemic
Published by: Bodley Head
A phenomenally gripping account of a homicide investigation explodes the myths around policing and race. Why would you kill your neighbour? Based on the best part of a decade embedded with the homicide units of the LAPD, this groundbreaking work of reportage takes us onto the streets, inside the homes and into the lives of a community wracked by a homicide epidemic. Through the gripping story of one particular murder – of an eighteen-year-old boy named Bryant Tennelle, gunned down one evening in spring for no apparent reason – and of its investigation by a brilliant, ferociously driven detective – a blond, surfer-turned-cop named John Skaggs – it reveals the true origins of such violence, explodes the myths surrounding policing and race and shows that the only way to reverse the cycle of violence is with justice.
Jill Leovy is an award-winning reporter for the Los Angeles Times. She lives in Los Angeles with her family.
Join the CWA
Become part of a thriving community of successful crime writers with invaluable support, expertise and marketing opportunities for all our members.
---