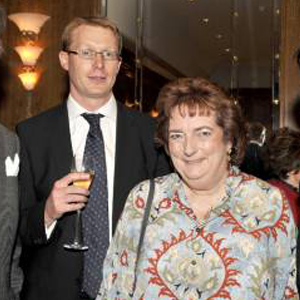 Monday May 16: The Diamond Dagger, awarded for sustained excellence in crime writing, was presented to bestselling historical author Lindsey Davis during a glittering champagne reception at the newly-reopened Savoy Hotel, London. Davis is the creator of the well-loved ancient Roman private eye Marcus Didius Falco, and widely recognised as the godmother of the historical crime genre.
In his speech, the Executive Chairman of Cartier UK Arnaud Bamberger saluted Lindsey's long career as a 'super sleuth'. Accepting the award, Lindsey Davis spoke variously in Latin, French and English, dedicating the Dagger to her late partner Richard, and describing how twenty years with her fictional character Falco had actually changed her own personality. She added: 'This really will be the best night of my career. I will treasure this award not only because it was nominated by colleagues, but because it represents so much friendship from our special sponsors at Cartier.'
At the same ceremony, Arnaud Bamberger of Cartier UK announced that this would be the final presentation of the award that Cartier would sponsor. The decision marks the conclusion of one of the most longstanding literary prize sponsorships, and coincides with M Bamberger ending his 18-year tenure as Managing Director of Cartier UK. He remains with the company as Executive Chairman.
The award, a silver book with a diamond-encrusted Dagger plunged into pages engraved with the winners' names, has long been recognised as the highest accolade a crime writer can earn. Past winners include PD James, Ruth Rendell, John le Carré and Ian Rankin.
CWA Chair Peter James said: 'The CWA owes an enormous debt to Cartier for their long support of this unique award. Although we're sad to say goodbye to them, it opens up a great opportunity for a new sponsor at a time when the CWA has very exciting plans for expansion.'
The Diamond Dagger is the latest award for the Lindsey. The Silver Pigs won the Authors' Club Best First Novel award in 1989, she won the Crime Writers' Association Dagger in the Library and Ellis Peters Historical Dagger, while Falco has won the Sherlock Award for Best Comic Detective.
She has been Chair of the Crime Writers' Association and Honorary President of the Classical Association. In 2009 the city of Zaragoza awarded her its International Prize for a career of writing historical novels, the Premio de Honor de Novela Histo rica Ciudad de Zaragoza.
The recipient of the Cartier Diamond Dagger Award is chosen by the members and committee of the CWA and is very much an honour awarded by the author's peers and this makes it special.
The photograph shows left-to-right: M Arnaud Bamberger, Executive Chairman of Cartier UK, Tom Harper, outgoing chair of the CWA, Lindsey Davis, and François Le Troquer, Managing Director of Cartier UK.
Join the CWA
Become part of a thriving community of successful crime writers with invaluable support, expertise and marketing opportunities for all our members.
---