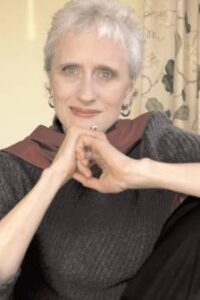 The Crime Writers' Association is delighted to announce that SARA PARETSKY is the winner of the 2002 Cartier Diamond Dagger. This annual award, sponsored by Cartier, is given to a writer in recognition for a lifetime's achievement in the genre of crime writing.
For this coveted award the CWA selects writers who meet two essential criteria. First, their careers must be marked by sustained excellence, and second, they must have made a significant contribution to crime fiction published in the English language, whether originally or in translation. The award is made purely on merit without reference to age, gender or nationality.
The Award was set up in 1986 when the first winner was Eric Ambler. Subsequent recipients have been P.D. James, John le Carré, Dick Francis, Julian Symons, Ruth Rendell, Leslie Charteris, Ellis Peters, Michael Gilbert, Reginald Hill, H.R.F. Keating, Colin Dexter, Ed McBain, Margaret Yorke and Peter Lovesey. The CWA Cartier Diamond Dagger Award for 2001 went to Lionel Davidson.
Sara Paretsky received her award from Cartier and the CWA at a reception at the British Museum on Wednesday the 8th of May, 2002. Many of the winner's fellow crime writers attended the reception.
Sara Paretsky is the creator of V. I. Warshawski, a private investigator based in Chicago. V. I. or Vic–never Vicky–made her first appearance in Indemnity Only, published in 1982. With her heroine Paretsky was one of the pioneers who paved a way for many female authors, resulting in a wave of women detectives dealing with a wide range of social issues in their investigations. In her novels Paretsky gave women a voice by writing about someone in a job-market that previously had been dominated by men. Easily the equal of her male colleagues, Vic specialises in white collar crime, often finding companies bolstering their position without regard for the ordinary people who work for them. Also reflected in V. I.'s approach to many cases are her past experiences with civil rights, social and political issues effecting women, and a stint in the public defender's office. In 1986 Sara Paretsky became the co-founder and first president of Sisters in Crime. Her involvement was a response to finding that many female authors were not getting the same media attention as their male counterparts. The now highly successful organisation has 50 chapters across the world. Among many accolades Sara Paretsky, also the author of Ghost Country, a non-crime fiction novel, received the CWA Silver Dagger Award for Toxic Shock (Blood Shot in the US).
Total Recall, the 10th V.I. Warshawski novel, is out in paperback later this year.
Join the CWA
Become part of a thriving community of successful crime writers with invaluable support, expertise and marketing opportunities for all our members.
---