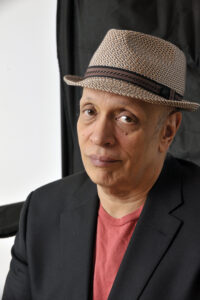 Diamond Dagger 2023
Winner
---
Walter Mosley
One of the most versatile and admired writers in America, Walter Mosley was born and raised in Los Angeles, and now lives in Brooklyn and LA.
Walter Mosley is the author of more than 60 critically acclaimed books, that cover a wide range of genres. His work has been translated into 25 languages.
He brought a cast of crime fiction characters into the American canon with his first novel, Devil in a Blue Dress, featuring private detective, Easy Rawlins. Several of his books have been adapted for screen, including Devil in a Blue Dress starring Denzel Washington, the HBO production of Always Outnumbered, starring Laurence Fishburne and Natalie Cole, and Apple TV+'s production of The Last Days of Ptolemy Grey starring Samuel Jackson.
Maxim Jakubowski, Chair of the CWA, said: "I am truly delighted my friend Walter has been deemed worthy of the Diamond Dagger by my colleagues and members of the CWA. His voice has dominated the fiction scene for decades and I can think of no more deserving and ground-breaking an author to be given this ultimate accolade, for the so many things he has contributed to our genre but also to modern society."
A multi-award-winning author, Mosley was inducted into the New York State Writers Hall of Fame in 2013. His numerous awards include The Mystery Writers of America's Grand Master Award, a Grammy, and a PEN America's Lifetime Achievement Award. In 2020, he was named the recipient of the Robert Kirsch Award for lifetime achievement from Los Angeles Times Festival of Books, and the National Book Foundation presented him with the Lifetime Achievement Award for Distinguished Contribution to American Letters.
The CWA Diamond Dagger is selected from nominations provided by CWA members.
Walter Mosley joins icons of the genre who have been recognised with the accolade, Ruth Rendell, Lee Child, Ann Cleeves, Ian Rankin, PD James, Colin Dexter, Reginald Hill, Peter Lovesey, John Le Carré, Martina Cole, Michael Connelly, Elmore Leonard, Sara Paretsky, Sue Grafton, Lawrence Block, Eric Ambler, Ed McBain and CJ Sansom.
Walter Mosley said: "At the beginning of my writing career I was fortunate enough to be awarded the CWA's New Blood Dagger, otherwise called the John Creasey Award. That was the highest point of my experience as a first book author.  Since then, I have picked up other honours along the way but the only award that comes near the Diamond Dagger is the MWA's Grand Master nod.  These two together make the apex of a career that I never expected."
Celia Killen, Walter Mosley's editor at Weidenfeld & Nicolson, said: "With over sixty books published, numerous bestsellers and multiple awards, Walter Mosley is a master storyteller and a true icon of crime writing. His career has been characterised not only by creative excellence, but by significant contribution to the publishing landscape, notably establishing The Publishing Certificate Program to encourage diversity in all levels of the industry. In 2020, the National Book Foundation presented him with the Lifetime Achievement Award for Distinguished Contribution to American Letters. We are incredibly proud to publish Walter and thrilled that his brilliant work is being recognised with this year's CWA Diamond Dagger."
Join the CWA
Become part of a thriving community of successful crime writers with invaluable support, expertise and marketing opportunities for all our members.
---